For more information, please contact Frances Stadler, our Director of Faith Formation and Family Life at fstadler@oviedocatholic.org. Click below to register for Children's Faith Formation 2023 – 2024.
---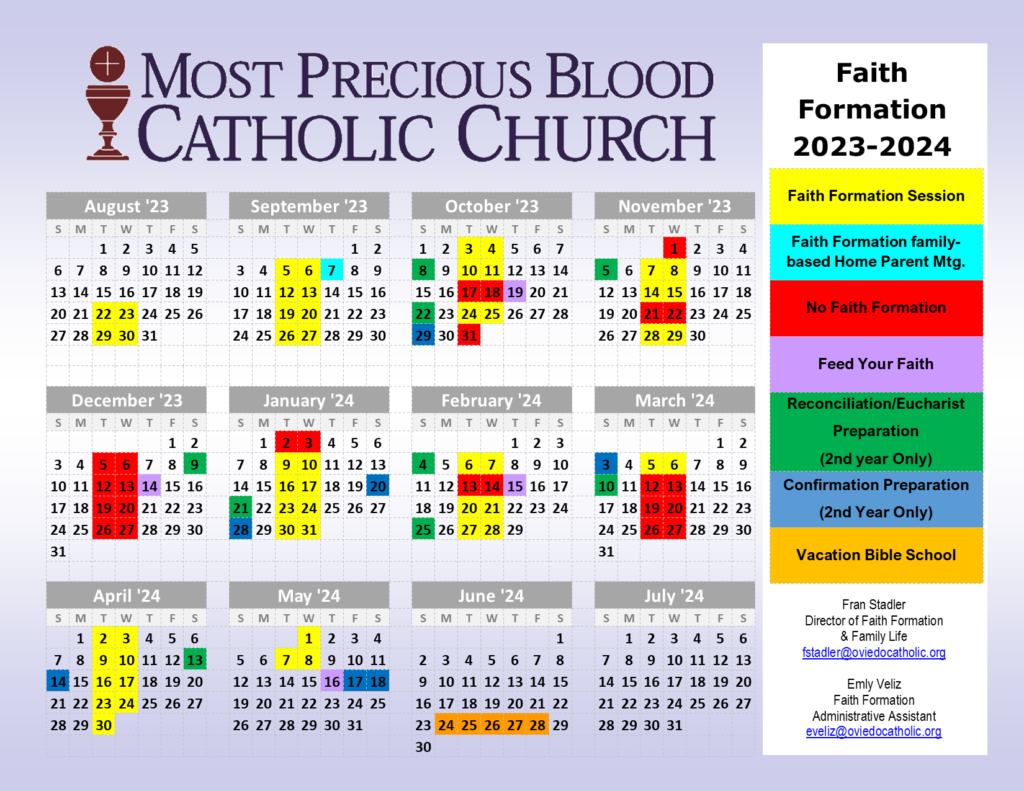 ---
Registration for the 2023-2024 Faith Formation closed on August 11th.
– Mandatory Parent Meeting August 22nd – 6pm or August 23rd, 4:45pm or 6:30 pm
– Family Based Faith Formation Mandatory Parent Meeting – NEW DATE – Thursday, September 7th, 6 pm
– High School Students getting ready for Sacraments Mandatory Parent Meeting – Sunday, August 27th – 6:45 pm

** Classes Begin: Tuesday, August 22nd – 6 pm and Wednesday, August 23rd – 4:45pm or 6:30 pm
---
Kindergarten – 12th Grade
Children's Faith Formation provides children and youth in elementary- high school grades with an ongoing opportunity to encounter Jesus Christ and grow in relationship with Him and the Catholic Church. Using an approved curriculum, catechists help the participants to deepen their knowledge of Jesus, grow in their love of Jesus, and faithfully follow Jesus in their daily lives.
Registration
Registration usually opens in May. Families must be registered in the Parish in order to enroll for Faith Formation sessions. Those enrolling their children for the first time must provide a copy of each child's Baptism certificate.
If you have any questions regarding the Faith Formation program, please contact Frances Stadler, our Director of Faith Formation & Family Life, at fstadler@oviedocatholic.org
Mass Offering Card
We are using these to reconnect our Faith Formation families to worship and engage more deeply in the Mass. Mass is worship, and worship has always involved sacrifice, in every culture and faith. We offer the best of ourselves to God in worship at Mass. Every Faith Formation Student preparing for a sacrament this year is required to complete a Mass Offering Card each week and submit them either at Mass or electronically if they are watching Mass online or if forget to turn in their card at Mass. In-person students may also turn their cards into their catechists in class.