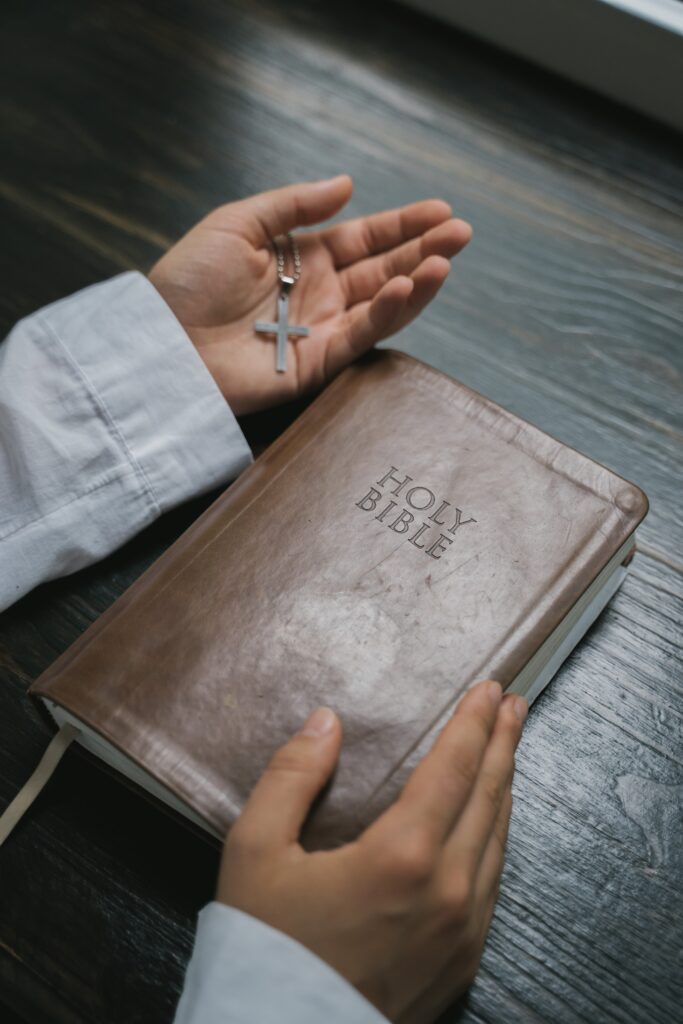 Evangelization Ministries ensure that our Catholic faith is promoted and that interested persons are properly invited and welcomed into our community. If you are interested in any of the following ministries, please contact the Ministry Leader.
Adult Enrichment Opportunities
Adult Enrichment Opportunities enable parishioners to join together and grow in faith through lifelong formation. We do this by studying and exploring the Bible and the doctrines and rich traditions of our Catholic faith. Gathering in groups provides the opportunity to grow in faith and learn along with other parishioners of our parish community. These gatherings help foster a familiar and personal group setting. Adult Enrichment Studies are sometimes held in the comfort of a parishioner's home who has volunteered to be the host home for the study.
Who: Anyone can open their home whether you are participating in the programs or not.
Responsibilities: To have a meeting area available for groups to come together on a weekly basis. Information and materials will be provided.
Time: 1-2 hours weekly, 6- 8 weeks depending on study.
Talent: Willingness to open your home.
Bible Study/ Small Group Facilitators
The Study of God's Word to gain a better understanding of our Catholic Faith. As a facilitator, you are asked to coordinate lessons and help with the structure of the study.
Who: Adults 18 years or older, in good standing who have received the Sacraments of Initiation (Baptism, Confirmation & Eucharist).
Responsibilities: Coordination of the studies, helping with the facilitation of the group.
Time: Depending on study 2-3 hours per week.
Talent: An understanding of the Catholic Faith and a willingness to share the joy of your faith.
Break Open the Word- Men Bible Study Groups
Join in with other men of the parish to "Break Open The Word " and reflect on the upcoming Sunday Mass readings. No registration necessary, bring a friend! Morning and Evening options to choose from or go to both if you have the time!
Thursday mornings 7:30am-8:30am (Men's Morning Scripture)
Thursday evenings 6pm-7pm (BYOB: Bring Your Own Bible)
Both sessions will take place in the Our Lady of Mt. Carmel Meeting Room.
For more information please contact:
Morning group: Andy Germ at 407-375-3382 or andygwv@gmail.com
Evening group: Louis Richner at louis.richner@gmail.com
Cursillo is an encounter with Christ and this Movement can have very positive results in the spiritual revitalization of the world. The Christ-likeness in a few good people is contagious. The goal of the Movement is that Christ be the prime influence in Society. Cursillo is an "invitation" weekend retreat that will change your life. For more information contact Kathy Maiorano at kmaiorano@gmail.com
Have you been invited to attend a Cursillo Retreat? If so, click below to access the registration forms.
RCIA SPONSORS (Rite of Christian Initiation of Adults)
Sponsors play a crucial role in the Christian initiation process as they guide and mentor Catechumens and Candidates seeking to become Catholic. They are called upon throughout the process to give testimony to the progress and readiness of participants and serve as a guide and connection between the participants and the parish community. Sponsors assist a Catechumen or Candidate by accompanying them along their faith journey through the different periods of the RCIA process.
Who: A Sponsor must be at least 16 years of age and a fully initiated Catholic, having received the sacraments of Baptism, Confirmation, and Eucharist. Each sponsor must be an active, practicing Catholic in good standing and if married they must be married in the Catholic Church.
Responsibilities: Sponsors attend weekly sessions along with Catechumens and Candidates to help reinforce the Catholic faith and traditions. The role of a sponsor is to become familiar with the stages and periods of the Christian Initiation process, commit to daily prayer for the person they are sponsoring, and to help draw that person into the life of the parish.
Time: Attend weekly RCIA sessions presented and facilitated by the RCIA Team — 2 hours a week; must also attend various Liturgical Rites which take place during Mass at different times throughout the year.
Talent: Ability to bear witness and guide others by providing support, time, prayer, and energy to serve as a mentor, role model, and friend.
Learn the art of making rosaries for various groups within the Most Precious Blood parish as well as the community at large.
Who: Adults and Youth
Responsibilities: Supplies are provided and are available through the facilitator. Rosary Makers meet on a monthly basis to craft the different types of rosaries as a group. Materials can also be brought home and worked on separately.
Time: This ministry can be from the comfort of your home as well as sharing in our group gatherings. Your gift of time can be one hour a week or one hour a month.
Talent: An open heart and a willingness to provide a service.