2023 Disaster Relief Special Collection
This weekend, August 26th and 27th, we will have a Second Collection to help with Disaster Relief. Thank you for your generous support of this effort. God bless!
---
Message from Bishop John Noonan: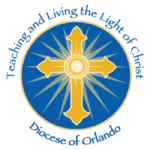 Grace and Peace of our Lord Jesus Christ be with you. We are called to assist our brothers and sisters in Hawaii who may be faced with the loss of their worldly possession or economic livelihood due to the devastating wildfires that have ravaged the island of Maui. While the peak of our storm season approaches, the impact of other disasters this year throughout the nation and the world, such as wildfires, flooding, tornadoes, and earthquakes, will be long-lasting. We offer our prayers to all the families affected by these disasters and pray for the repose of the souls whose lives were taken.
In solidarity with our brothers and sisters, I ask you to participate in Disaster Relief 2023, a voluntary special collection for the humanitarian, long-term recovery, and Church needs arising from these calamities.  The funds collected in this special appeal will be used to support the efforts of the official relief agencies of the U.S. Catholic Church, Catholic Charities USA and/or Catholic Relief Services, as they and their local agencies respond to immediate emergency needs for such necessities as water, food, shelter, and medical care, and aid in long-term rebuilding and recovery efforts; and the United States Conference of Catholic Bishops for pastoral and reconstruction needs of the Church, including needs which may arise within the Diocese of Orlando.
---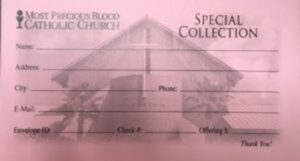 •             You may place your donation in one of our Pink or Yellow Special Collection envelopes.
•             Checks should be made payable to Most Precious Blood Catholic Church, and we will in turn send it to the Diocese of Orlando.
•             We ask that you notate your donation for Disaster Relief 2023 on the bottom of the check or the envelope.
•             You may also donate online at http://www.oviedocatholic.org/giving
---
Prayer after a Storm
Almighty and ever-living God,
we bring our grateful hearts to you in
thanksgiving and praise for bringing us through
the peril of a threatening hurricane this week.
Yet we are mindful of those who have suffered injury,
damage or loss and ask that you would comfort them with
your healing love.
Guard as well those who yet remain in harm's way.
We give thanks for all the compassionate hard-working people
who are caring for our safety, health, and well-being.
As we continue through this turbulent season,
help us always to place our hope, our fears, and our trust in you,
for in you alone is life; through Jesus Christ our Lord.
Amen