2023 Advent Season Dec. 3 – Dec. 24 – Spiritual Opportunities & Traditions
Beginning the Church's liturgical year,

Advent

(from, "ad-venire" in Latin or "to come to") is the season encompassing the four Sundays (and weekdays) leading up to the celebration of Christmas.
The Advent season is a time of preparation that directs our hearts and minds to Christ's second coming at the end of time and also to the anniversary of the Lord's birth on Christmas. The final days of Advent, from December 17 to December 24, focus particularly on our preparation for the celebrations of the Nativity of our Lord (Christmas).
Join us throughout Advent for the following: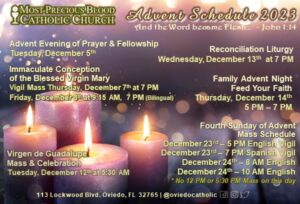 ---
FREE Gift for all families!  Don't forget to pick up this great devotional!

Pick up an Advent Booklet as you leave this weekend, November 25 & 26.  This is a gift from the parish to each family as you journey through the Advent Season.  Please take one booklet per family so there are enough for everyone!  Thank you!
---

Advent EVENING OF PRAYER AND FELLOWSHIP
It's with much joy that we invite you to join us in a wonderful event to kick off the Advent Season as a parish family. Hallow, the #1 Catholic prayer app, will be here along with Regina Boyd, licensed therapist and Catholic speaker, to lead us in an evening of prayer and fellowship. Regina is one of the voices featured on the Hallow app, where she teaches listeners about mental health and finding God's peace in prayer. The event takes place on Tuesday, December 5th at 6:30 PM in The Parish Life Center. Be sure to download the Hallow app (free to download) so you can take part in the parish's Advent Prayer Challenge. We will also be offering an Advent gift through Hallow to all that attend! For more information contact Donna Scimeca at dscimeca@oviedocatholic.org or 407-365-3231 x121.
Click below to register online!

---
Spiritual Opportunities for Advent
Advent Calendar
Click Here are some events and activities you and your family can do this Advent season as we await the coming of the Lord.
---

Grow closer to our Lord in the manger this Advent with Dr. Tim Gray.  Each Daily Reflection is a short video on the daily Mass readings through Advent and Christmas, explaining the Scriptures, and providing you with concrete ideas on how to apply them to your life. Sign up for free at daily.formed.org
---
Is your soul shining as brightly as you—and God—want it to?
Discover Jesus' radical invitation for you this Advent and what His wisdom can mean for your Christmas…and the rest of your life. Get inspiring daily video reflections sent straight to your inbox—for free. When Christmas arrives, you'll be ready to share the light you've gathered along the way! To sign up go to:https://www.dynamiccatholic.com/advent/best-advent-ever.html
---
From the first Sunday of Advent through Christmas Day, Bishop Robert Barron will send you a short email with an uplifting spiritual Advent reflection each day. Register for free at: AdventReflections.com
---
Prepare for Advent on the Hallow app. This Advent, journey through the powerful writings of C.S. Lewis, author of the Chronicles of Narnia and one of the greatest Christian apologetics of all time, with daily readings, reflections, and meditations leading up to Christmas. Download the app for free from the app store or go to

hallow.com

for more information.
Also new this Advent, Kids'Advent challenge, Mary on the Mantel! Inspired by

Be A Heart's

alternative to "Elf on the Shelf," Mary will share how she was chosen by God, what a gift Jesus is to the world, and encourage children of all ages to pray with her.
---
Enjoy this video from Busted Halo – Advent in 2 Minutes! – Great for the whole family!
 The Advent Wreath's Meaning
One of the most popular Christian symbols used in churches and family homes to celebrate the meaning of Advent is the Advent wreath. The Catholic Advent wreath has four candles (three purple and one rose) evenly spaced along a circle of evergreen branches. Each component of the Advent wreath has special meaning for Christians who use it as a part of their preparation for Christmas.
---
Advent devotions including the Advent wreath, remind us of the meaning of the season. Our Advent calendar above can help you fully enter into the season with daily activity and prayer suggestions to prepare you spiritually for the birth of Jesus Christ.  More Advent resources are listed below.

( from usccb.org)
---
Advent Resources from usccb.org
(United States Conference of Catholic Bishops)