Advent Outreach 2023
As we celebrate this Advent Season it has been our tradition to share our blessings with those less fortunate. This year, more than ever, there is a great need to bring a little Christmas joy to all those in need in our community. 
Our Angel Advent Trees will be displayed in the Narthex starting the Monday before Thanksgiving, November 20th. We will begin collecting donations the following weekend, and for the next few weeks after that, we collect gifts for
several organizations in our community. Some include
HOPE's Christmas in the City, Sanford Pregnancy Center, and
JMJ Pregnancy Center.
Your help and generosity are appreciated as we look forward to warming hearts and providing smiles to those around us. 
Please feel free to drop your UNWRAPPED donations on the tables labeled ANGEL GIFTS in the Narthex at any time or at the Parish Office during business hours Monday – Thursday 10 AM – 5 PM, Friday 10 AM – 3 PM on by this weekend, December 9th & 10th with the corresponding Angel tag.
---
Most Precious Blood Families in Need of Christmas Help
If you are having a hardship and would like some help for Christmas, please come to the Parish Office and speak to Maria Bahr at mbahr@oviedocatholic.org or Lillian Izaguirre at LIzaguirre@oviedocatholic.org to sign up for MPB Families for Christmas assistance. All information collected is kept in strict confidence. Only registered MPB families qualify for assistance.
If you have signed up for assistance through HOPE Helps or Christmas In the City, unfortunately, we are not able to provide assistance.  
---
Adopting Families in Need for Christmas
Please prayerfully consider adopting a family in need of assistance this Christmas. If you would like to adopt a local Most Precious Blood family for Christmas or would like additional information as to what this entails, please contact Lillian Izaguirre at the parish office at 407-365-3231 or via email at LIzaguirre@oviedocatholic.org no later than Friday, December 1st. If you would like to make a monetary donation towards MPB Families in need instead of shopping, please contact Lillian as well.  Thank you for your generosity!
---

Christmas in the City- HOPE Helps
Christmas in the City is an event where the Oviedo community at large unites to provide the spirit of Christmas to families in need. This year HOPE Helps' 16th CHRISTMAS IN THE CITY will take place on Saturday, December 16th, for all registered participants.  The event will be from 10am – 2pm at University Carillon United Methodist Church, 1395 Campus View Court, Oviedo, FL.  For more information and to volunteer contact https://www.hopehelps.org/christmas-in-the-city/
Please be on the lookout in the next few weeks for our Advent Trees located in the Narthex and help us collect items for children from infants to 18 years old, as well as gift cards. All gifts must be returned to the parish by December 6th.  Here are some gift ideas:
Preschoolers Ages 2-5: 
Toys –  Baby dolls, trucks, dinosaurs, Paw Patrol Legos

New Diapers and Pull-ups

New Socks and Underwear

$20 gift cards to

Walmart ONLY
 Ages 5-10:  
Toys – Legos, Hot Wheels, Star Wars, Barbie Brand dolls, skateboards, LOL surprise, Nerf, Hatchimals Colleggtibles, STEM toys, and Books in English and Spanish

New Socks and Underwear

Travel Games

Water Bottles (with lids)

$20 gift cards to

Walmart ONLY
Pre-teens Ages 11-14: 
Toys – art supplies, gel pens, journals, portable chargers, ID lanyards, wallets, body sprays, nail polish, remote control toys, sports balls.

New Socks and Underwear

$20 gift cards to

Walmart ONLY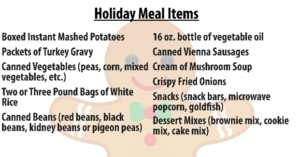 ---
JMJ Pregnancy Center
Items need to be returned by December 6th.  Please mark your donations "JMJ"
Baby Summer bottoms only (All Sizes – no tops plz)

Infant bath tubs

Boppy Pillows for breastfeeding

Baby Bath Towels

Infant Hygiene Items

Maternity Bags
---
Thank you for your gracious generosity. If you have any questions please contact Lillian Izaguirre at the parish office or via email at lizaguirre@oviedocatholic.org