God bless our Shepherd, Fr. Josh Swallows
The parish community of Most Precious Blood is invited to celebrate our Feast Day of The Most Holy Blood & Body of Christ (Corpus Christi)

a

nd participate in the installation by Bishop John Noonan of our current Parochial Administrator, Fr. Josh Swallows, as Pastor of our parish!
Saturday, June 10th at the 5 PM Mass.
---
Is there a difference between a Parochial Administrator and a Pastor?
Both Pastors and Parochial Administrators are to exercise their authority as an extension of the bishop and in the example of Christ, the Good Shepherd. They must care for the souls of the faithful entrusted to them and must fulfill his duties to teach, to sanctify, and to govern the faithful with the cooperation of associate-sacramental priests, deacons, religious and laity of the parish. The administrator maintains the parish running smoothly until a pastor is assigned.
A parish has a right to a pastor. The bishop in time may decide to install the Parochial Administrator as the Pastor of the parish. He weighs the pastoral needs of a parish and prayerfully attempts to match them with a priest qualified to meet those needs. A pastor is "the proper shepherd" of a parish with an ecclesiastical office.
We are grateful and blessed to have Fr. Josh Swallows as the Shepherd of our parish!
---
In honor of his installation as Pastor of Most Precious Blood Catholic Church, we would like to present Fr. Josh with a Spiritual Bouquet from the parish. Click the image below or visit the Parish Office to participate. All entries are due by May 26th to be included in our bouquet. Thank you!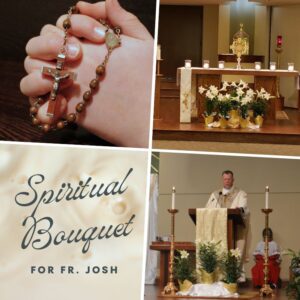 ---
A little history about Fr. Josh
Our parish has had a wonderful history with Fr. Josh as we prayed and journeyed with him on his path to ordination as a priest. In 2008 he responded to his calling to the priesthood and entered Seminary. On May 23rd, 2015 many of our parish family were able to attend his ordination at St. James Cathedral in Orlando, and for the first time in our parish history, we lived streamed the ordination here in our Parish Life Center!
Fr. Josh also serves as the Director of Vocations for the Diocese of Orlando and Chaplain for the Catholic Campus Ministry just down the road at UCF. We are blessed to see how the Holy Spirit continues to inspire and guide Fr. Josh as he now shepherds our parish!
Fr. Josh grew up in nearby Casselberry, Florida. He graduated from Lake Howell High School. He attended Florida State University and graduated with a degree in Economics. It was while there at Florida State that he first became really involved in campus ministry as a student leader. After graduation, he returned home and served as the lay Campus Minister at CCM from 2004-2008.
After his ordination, Fr. Josh served as Associate Priest at Annunciation Catholic Church, and in December 2019, we were blessed to welcome back home Fr. Josh as our Parochial Administrator.
In his free time, he enjoys fishing. Actually, that is an understatement. He is addicted to fishing. He has a small bass boat and on his day off, or whenever he gets a chance, he can probably be found out on the St. Johns River or some other local waterway.