Most Precious Women – Welcome Back Social, August 28th
Are you looking to enrich your spiritual, social, and stewardship life with other women in our parish? 
The Most Precious Women ministry is for you!  Most Precious Women Ministry promotes both the spiritual and social growth of all women in the parish by providing service, prayer, and support. of the Parish. Our ministry is available to all women.
Meetings are held periodically; service and social activities are provided throughout the year. Please watch the bulletin, visit our parish website, or sign up to receive our quarterly email newsletter for any upcoming events. 
If you would like to become involved with the MPW planning committee, our next meeting will be held on September 7th at 6:30 pm in The Lady of Lourdes meeting room. 
---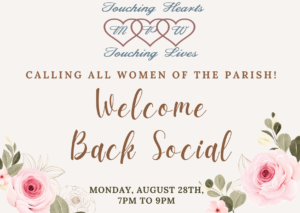 Our Most Precious Women Ministry is hosting its annual Welcome Back Social.
WHEN: Monday, August 28th, 7pm to 9pm
WHERE: In the Narthex of the Parish Life Center
Gather with past friends & meet new ones 
for an evening of fellowship and the Catholic Card game! 
Light refreshments will be provided.
If you have questions or to let us know you will be attending the event, please email mostpreciouswomen@gmail.com